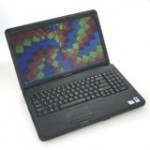 The Lenovo G550 is an update to the Value Line G530 with the primary difference being the shift from a 16:10 to a 16:9 screen. Configurations include either Intel Pentium or Core 2 Duo processor and up to 4GB DDR3 installed memory. Lenovo Coupons page for G550 coupons and deals.
Pros

Tough construction
Textured finish hides smudges
Comfortable and solid keyboard

Cons

Missing features from the G530
Read Our Full Review: Lenovo G550 Review
Sorry pricing for this product is not found. Here is pricing on some similar products.

POWERED BY: