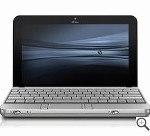 The HP Mini 2140 netbook features a 10.1″ LED display with 16:9 aspect ratio. This ultra-portable is also equipped with a 1.6GHz Intel Atom processor, HP 3D DriveGuard for shock protection, integrated Wi-Fi Certified WLAN and optional Bluetooth 2.0. See the click here to see latest hp coupon codes.
Pros

Excellent keyboard
Very good extended battery life
Higher resolution

Cons

Glossy, reflective screen
Second screen layer traps dust
Read Our Full Review: HP Mini 2140 (HD Update) Review
Sorry pricing for this product is not found. Here is pricing on some similar products.

POWERED BY: