News Bits: Leather Laptops, Asus Turion 64, Pentium M Prices, USB Stick TV Tuner, ExpressCard
Leather Laptops?
A company called Inclosia Solutions is marketing a process that allows for an easy way to bring leather or other fabrics to the covers of laptops. Below is a picture of one of the wilder looking notebook cover examples, obviously targeted at the female audience. This notebook comes from Tulip Computers, a Dutch PC Company
The fabric is actually attached, it's not snappable, so you'd better know that you like the look and won't change your mind. Even though the company promotes that the leather will actually also provide cushioning for more protection of the laptop in the case of a drop, in addition to the fashion statement, I find the look kind of scary.
More: http://news.com.com/Leather+laptops+coming+soon/2100-1044_3-5618715.html?tag=nefd.top
Asus A6000K Turion 64 Notebook
Asustek is a pretty major player in the notebook industry and they are hoping to grow further and offer notebook buyers the option of getting an AMD 64 Turion based notebook. At CeBit Asus was showing off the A6000K AMD Turion 64 based notebook. This machine will sport a 15″ or 15.4″ screen, NVIDIA GeForce Go 6200 Mobile Graphics processor with 64MB of VRAM, DDR333 memory (up to 2GB), 802.11 a/b/g wireless and will weigh less than 3KG. Asustek has no information on pricing or when large quantities of this notebook will be available.
Asus A6000K
More: http://www.digitimes.com/systems/a20050315PR204.html
Intel Intends to cut Prices on the Pentium M to Compete with AMD Turion 64
Intel has been hugely successful with its Pentium M line of processors made for laptops. Intel claims they're not worried about the AMD Turion 64 mobile processor stealing sales from the Pentium M, but just to make sure that doesn't happen we're hearing that Intel plans to cut Pentium M prices this summer to make manufacturers of notebooks think really hard before deciding to switch to an AMD Turion processor. The price cuts will hack prices by up to 33.6% on mid and high-end Pentium M processors.
Another reason for these price cuts will be because Intel will release a new 2.2GHz Pentium M (Pentium M 780) during the late summer, and they always cut prices of current processors with the introduction of higher performing processors in the same line.
More: http://www.digitimes.com/news/a20050314A7039.html
TV Tuner in a USB Stick Format
Compro Technology is showing off a new USB stick accessory — a TV tuner. This is being shown at the CeBit tech show in Germany. Three new TV tuners are being shown, one supports digital TV, one supports the NTSC television standard and the other supports the PAL/SECAM television standard. The three TV tuners require a CPU with at least 600MHz or processor power, 128MB of RAM and it rquires the Windows XP operating system.
The are many options available currently for plugging a TV tuner device into a USB 2.0 port, but none as small and convenient as a simple stick device that's easy to carry around and slot in like a Flash Memory stick.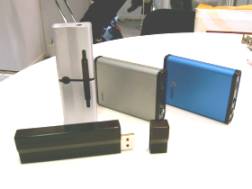 More: http://www.digitimes.com/systems/a20050315PR205.html
Express Card Options Showing Up
With recent laptop releases we've been seeing a new slot on notebooks called the ExpressCard slot. The problem is people aren't finding any accessories to buy to actually put in this slot. That's starting to change though, attendees at CeBit in Germany saw ExpressCard TV Tuners, FireWire adapters, Bluetooth adapters, CompactFlash adapters, Flash Memory card readers and Gigabit Ethernet networking card adapters in the ExpressCard format. In the coming weeks look for an orange rabbit on the cover of product packaging to indicate that a laptop accessory is intended to be used in the Express Card slot.
ExpressCard slot with card being inserted
More: http://www.itnews.com.au/newsstory.aspx?CIaNCID=46&CIaNID=18253