Microsoft Surface Pro with LTE Delayed to 2018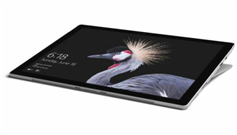 When the 2017 version of the Surface Pro was unveiled last spring, Microsoft said that a version with built-in 4G LTE would be available before the end of the year. Now, the company quietly admits it's not going to make that deadline.
The initial announcement excited some shoppers because this will be the first Surface Pro with built-in LTE. Previous tablets from this company with integrated 4G were part of the Surface series that didn't run the standard version of Windows.
As recently as last month, Microsoft reportedly planned to introduce the LTE-enabled version on December 1.
However,  the product page for the Surface Pro (2017) has now been updated with "The new Surface Pro with LTE will be made avaiable [sic] for purchase at retail Spring 2018." This means that the 4G version won't reach buyers' hands until about a year after the WiFi-only one did.