Asus Announces Mixed Reality Headset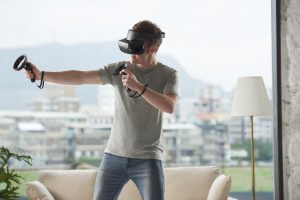 CES 2018 – Asus has taken the wraps off of its new Windows Mixed Reality headset. Asus is billing the device as innovatively designed and comfortable to wear.
Windows Mixed Reality is a technology platform by Microsoft. It allows users to wear a headset and enter a virtual world. A variety of apps, games, and experiences are already available in the Windows store, such as Minecraft. For an in-depth look at Windows Mixed Reality, take a look at Microsoft's product page. Also, check out our review of the Samsung Gear VR headset to get an idea of what it's like to wear a headset!
Asus Mixed Reality Headset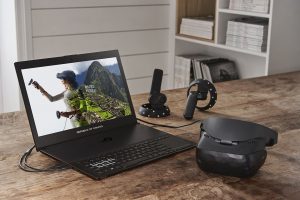 The outside of the Asus headset has a 3D-look design in all black. The cushioned materials should provide for a comfortable experience. The front of the headset can be conveniently flipped up; that's easier than having to take the headset on and off. The headset itself weighs 0.88 pounds, making it relatively lightweight. The majority of the weight should rest on the front and back of your head. Asus says the materials used in the headset are quick-drying and antimicrobial.
10-Minute Setup
One of the major selling points for Windows Mixed Reality headsets is their ease of setup. Asus says their headset should take 10 minutes to set up. No external sensors are required. Instead, the headset has two front-facing tracking cameras to map the environment. It connects to your PC via an HDMI and a USB cable.
The Asus Mixed Reality Headset has a 3K (2880×1440) resolution and supports up to a 90Hz refresh rate for smooth visuals. Note you'll need a relatively power PC to use the headset, at least if you want the best visual experience. Windows 10 is required, as well. Not sure if your PC meets the requirements? Ask in our forums! (Or, just post a comment to this article.)
Pricing & Availability
Asus says the Mixed Reality headset will be available in Q1 2018, but hasn't left word about pricing. The pricing shouldn't be much different than the other Windows Mixed Reality headsets already on the market, such as the Lenovo Explorer. Expect it to be about $299 without motion controllers, and $399 with motion controllers.  We'll recommend the model with motion controllers, as the Windows Mixed Reality experience isn't all that complete without them.