AMD Brings Ryzen Mobile to Notebooks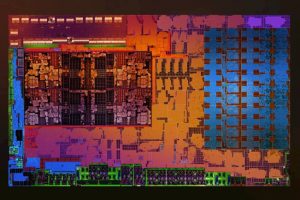 AMD officially unveiled its new Ryzen Mobile family of processors (formerly code-named Raven Ridge), designed for ultra-thin notebooks.
The new architecture of the Ryzen Mobile chips combines a new AMD Zen quad-core CPU along with AMD's RX Vega GPU integrated into a single chip. The Ryzen Mobile processors are optimized for the low-power demands of the latest generation of thin-and light laptops and 2-in-1 devices thanks to a 15W nominal processor TDP. The first two processors in the family are the Ryzen 5 2500U and the Ryzen 7 2700U.
While both the AMD Ryzen 7 2700U and AMD Ryzen 5 2500U processors operate at a default 15-watt TDP, that power consumption is configurable by notebook manufacturers, so it's conceivable that we'll see at least one or more notebooks in 2018 that run these chips at lower power settings to deliver even better battery life. The four "Zen" x86 cores in both the Ryzen 7 2700U and Ryzen 5 2500U will handle 8 threads for multitasking and feature AMD SenseMI Technology.
AMD claims the Ryzen 7 2700U is "the fastest processor for ultrathin notebooks, with up to 44% more multi-threaded CPU performance as well as up to 161% more graphics performance than the competition." Compared to the previous generation of AMD APUs, the Ryzen 7 2700U delivers "up to 3X the CPU performance" and "up to 2.3X the GPU performance" with "up to 58% less power consumption."
While we're on the topic of power consumption, AMD is ahead of pace for its 25X20 initiative, with the AMD Ryzen 7 2700U processor enabling a 5.86X energy efficiency improvement since the beginning of the initiative. AMD is targeting a 2X battery life improvement for notebooks running the new Ryzen Mobile processors.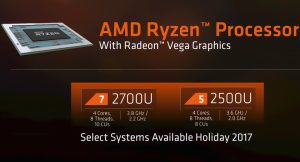 Both of the new Ryzen Mobile processors are also the first to include AMD's new Precision Boost 2 technology, which accelerates processor performance for workloads ranging from one core to all four CPU cores.
Integrated Graphics with an Edge
While our editors haven't tested the new Radeon Vega Graphics in these chips, AMD claims that both processors will deliver "smooth and playable framerates at 1080p" in games like League of Legends, Overwatch, CS:GO and DOTA 2.
The Radeon Vega Graphics are also fully capable of driving displays with HDR, Radeon FreeSync 2 and 4K resolution … if manufacturers choose to offer notebooks with those displays.
AMD Ryzen Processor with Radeon Vega Graphics
Model

CPU Cores

Threads

Max Clock (GHz)

Graphics Compute Units

Max GPU Clock (MHz)

L2/L3 Cache (MB)

 

Ryzen 7 2700U with
Radeon Vega Graphics

4

8

3.8

10

1300

6

 

Ryzen 5 2500U with
Radeon Vega Graphics

4

8

3.6

8

1100

6

 
In the coming weeks, initial systems powered by Ryzen Mobile are slated to be available from top manufacturers including Acer, HP, and Lenovo, with further platform updates expected from Dell, Asus and other OEMs in early 2018. Initial leaks suggest that both the HP ENVY X360 and the Lenovo IdeaPad 720S will be among the first notebooks available with Ryzen Mobile processors.